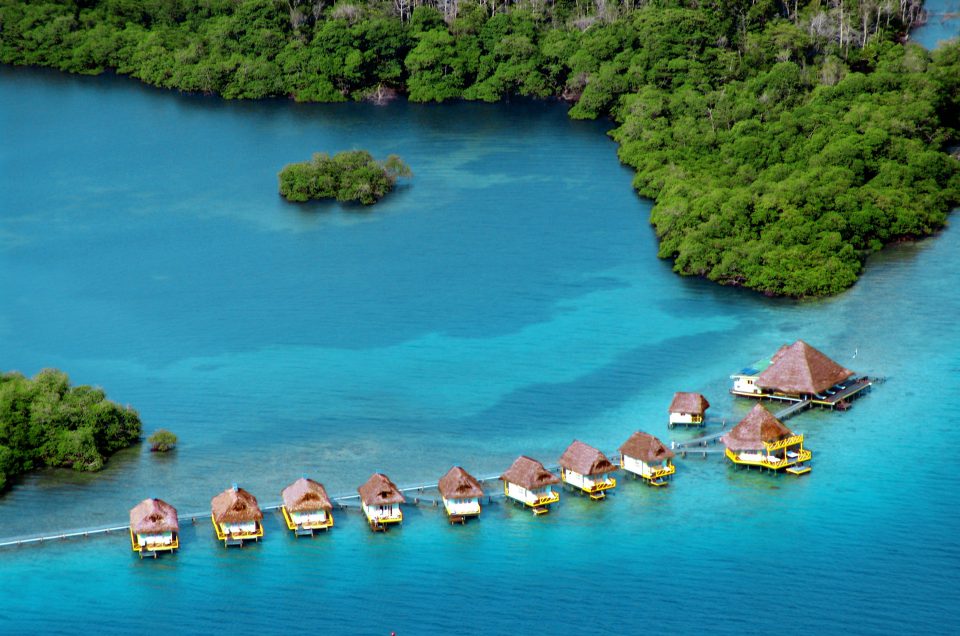 After 48 hours of flying and walking in different airports in China and the United States, I took a seat on Richard's beautiful little bike. Yes, I took my seat on this bike that was going to be our transportation for the next 2 weeks with my backpack of 18 kilos. Established in Costa Rica for a few months already, Richard was going to be my guide and a most inspiring travel companion. After 2 days in the cold airports, it was nice to be back among the palm trees and the hot sun. I felt like home again!
Here is a summary of the places visited on the west coast of Costa Rica
Montezuma
Accommodation: We stayed two days at the Hotel Lucy Backpacker overlooking the sea. The location is excellent, but do not expect luxury! This is the perfect place for travelers wanting to enjoy the surroundings to the fullest and pay little for accommodation. Our stay however was very pleasant and our room was very clean.
Restaurant: We ate in a very nice restaurant named Organico where there are live music every night and where we serve healthy and delicious food! The next day we enjoyed a delicious Soda Montesol lunch with both familiar and exotic flavors.
Daytime activity: We went to the famous waterfall of Montezuma where we bathed and watched people from the place dive from the top of the waterfall! It was pretty terrifying and impressive at the same time!
Evening Activity: We went out in a box at Chico's Bar being the trendy place to go for a walk in the sand. Just outside, it is also possible to watch a dance show with a fire in the middle of the street.
Some locals will offer you their "guide" services to get to this famous waterfall. Be aware, however, that the walk remains easy enough to go despite the rocks on the way and the path is well defined.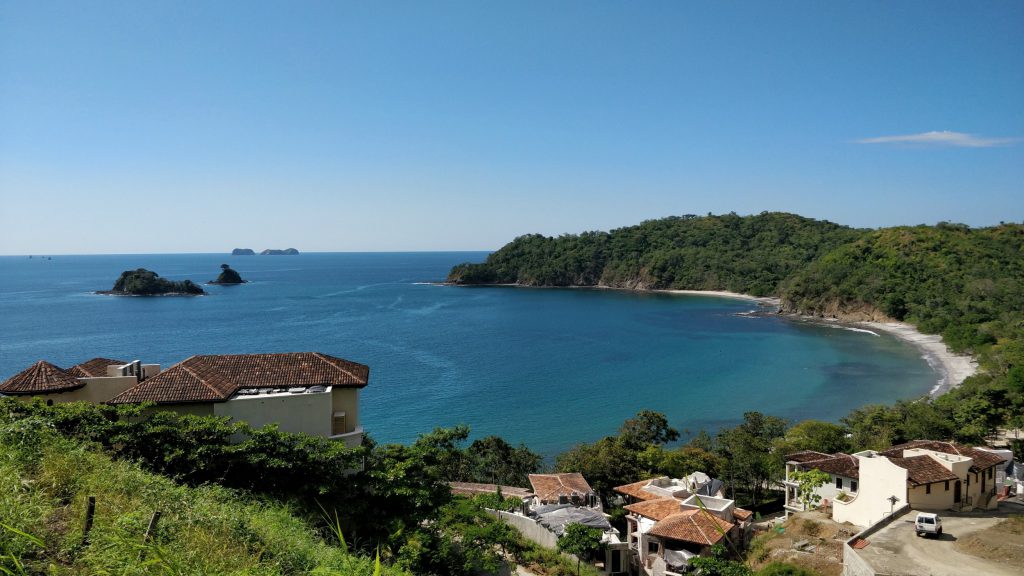 Costa de Pajagos
Accommodation: I discovered a wonderful wooden house that had been Richard's residence for 2 months. Next door there was another house where a couple from Nicaragua lived for a few years. They welcomed me very warmly and cleaned my room during my stay, not to mention that they cooked us various local dishes in the mornings, midday and evenings. The best part of all this is that every morning there were two monkeys joining us for breakfast. For more information on this place, contact me privately.
Daytime Activities: I had the chance to participate in a morning fishing session with 8 other people from the area in addition to some Colombians. Nobody spoke English except Richard and I so the exchanges were very funny. We enjoyed exploring this region by motorbike since we find beautiful fields filled with cows and horses. You'll also find breathtaking scenery with all the colorful little fishing boats along the coast.
Liberia
Accommodation: We stayed in a beautiful hotel named Hotel Wilson for two nights. The room was gorgeous and very comfortable not to mention that the people at the hotel were absolutely adorable and available to help us with questions.
Daytime Activities: We made a long drive to reach the Rincon de la Vieja volcano in the national park with the same name. Since it was active, we could not go to the top, but it still gave us an overview of all the mountains including one that projected a mass of smoke. If we did not go to the crater, we stopped at the hot springs of rio negro . It was one of my favorites of the trip! We covered ourselves with volcanic mud and bathed in different hot springs and a river and then crossed a suspension bridge.
Evening activity: Enjoy a stroll in the beautiful park of Liberia in front of a beautiful church. It is also possible to observe local skateboarding in front of a crowd of admirers.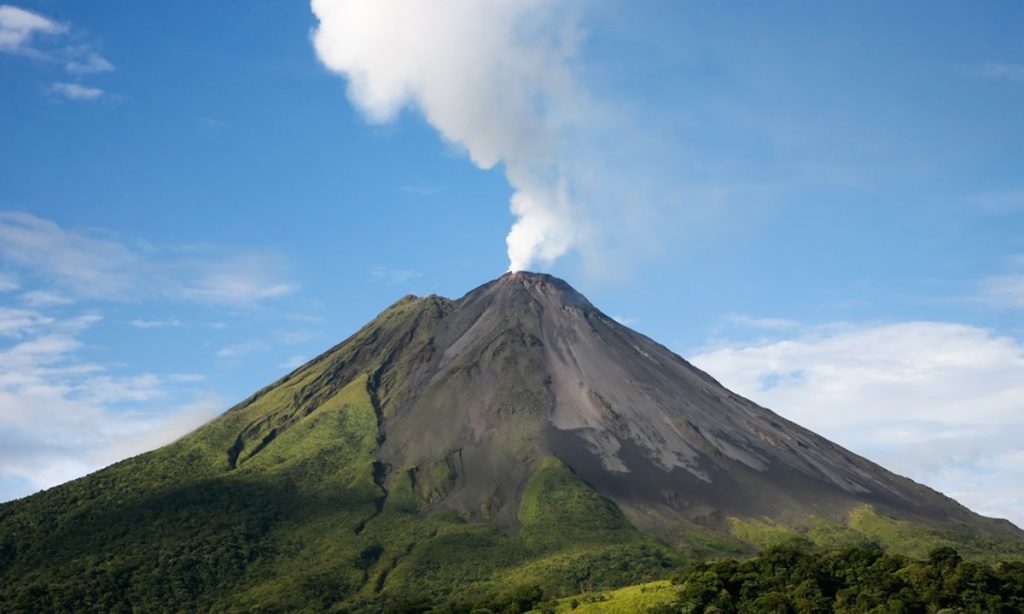 Playa Hermosa
Accommodation: We again slept in a very nice hotel with outdoor pool named Rincon del Llano .
Restaurant: We had supper in front of a splendid sunset thanks to the excellent restaurant Roberto's Bar & Restaurant . The food was delicious, the service very relaxed, the music was quite casual and the atmosphere very warm. I had the chance to drink one of the best margaritas I have ever tasted.
Daytime activity: Simply enjoy the beautiful beach, Playa Hermosa.
CULTURE SHOCK
This is the first time since I travel that I can say that I really experienced a culture shock other than language! Costa Rica made me experience a range of emotions, but I would go back tomorrow morning! What struck me most was insects. At night, as soon as we opened a small light, there were a lot of critters that came inside. One night, I was sitting on my bed and there was a spider on one of the walls, a giant moth in another corner and a dozen insects flying around my light! So in addition to being on jet lag from Australia, I was completely terrorized by insects. To add icing on the cake, one night, I had my flashlight in my hand and I lit the wall right next to my head to find a scorpion! A SCORPION ! I could not breathe so much I was scared! I ran straight to Richard so he could kill him or run him away. Guess if I slept next?
For lovers of thrills, it is possible to observe crocodiles in the wild! If you are near a river, pay attention to the movements of the water, you could see more than one crocodile ! Be sure not to serve him a meal!
Did you know that ?
San José : the capital of the country, surrounded by mountains and greenery
Liberia: city surrounded by beaches and nature parks
When you leave the country, you will have to pay an airport tax of about $ 28 USD * It is better to pay in cash to avoid transaction fees
For caffeine addicts, you must absolutely drink a good coffee of the country, the harvest being from November to March
Costa Rica has one of the greatest wildlife diversity in the world!
Nearly 25% of the country's territory is reserved for protected parks and nature reserves
There are 116 volcanoes of which 5 are active (Arenal, Irazu, Poas, Rincon de la Vieja, Turrialba) and 2 asleep (Barva and Orosi)
Do not forget to open your eyes to have the chance to see a sloth perched on its branch!
The Pura Vida
I loved my trip to Costa Rica and I even plan to go back to visit the Caribbean coast. I enjoyed all the people I met there. Everyone was so kind, warm and understanding. Those two weeks there allowed me to rest and clear my head of all worries. It was really a vacation of peace. The Spanish language is simply beautiful and I am happy to have done so well, it encourages me to continue learning. I simply recommend this country. There are a few backpackers on the west coast because it is very affordable, it is hot, the sea is beautiful, what better! I invite you to embark on an adventure in Central America! Discover this country with wild forests, teeming waters of unfamiliar animal species,