Driving independently along famous Route 66 or the breathtaking Great Ocean Road in Australia, feeling the sensation of boundless freedom is living the travellers dream. You want to hang out on vacation not only in your hotel complex and on the neighboring beach, but instead really see something of the country and the surrounding area? Then there is a rental car just right for you. With this you are completely flexible and free, so you can explore your destination to your heart's content. But how does the rental car business work? What do you have to do to be able to seamlessly change from the seat in the plane to the driver's seat of your rental car without any complications? I'll give you an overview of how and where you can rent a car, what you need to keep in mind and what additional options there are.
What is a rental car?
A rental car is – as the name implies – a vehicle that you can borrow for a certain time from a provider of your choice. You first reserve the chosen vehicle before you pick it up from your providers location, which is also set in advance. These locations can be found in almost every major city, as well as in many other locations, especially of course at popular holiday destinations . There, stations are usually located near train stations, in the city center and very often at airports. Because that's where the majority of the clientele comes in and can easily pick up the rental car directly.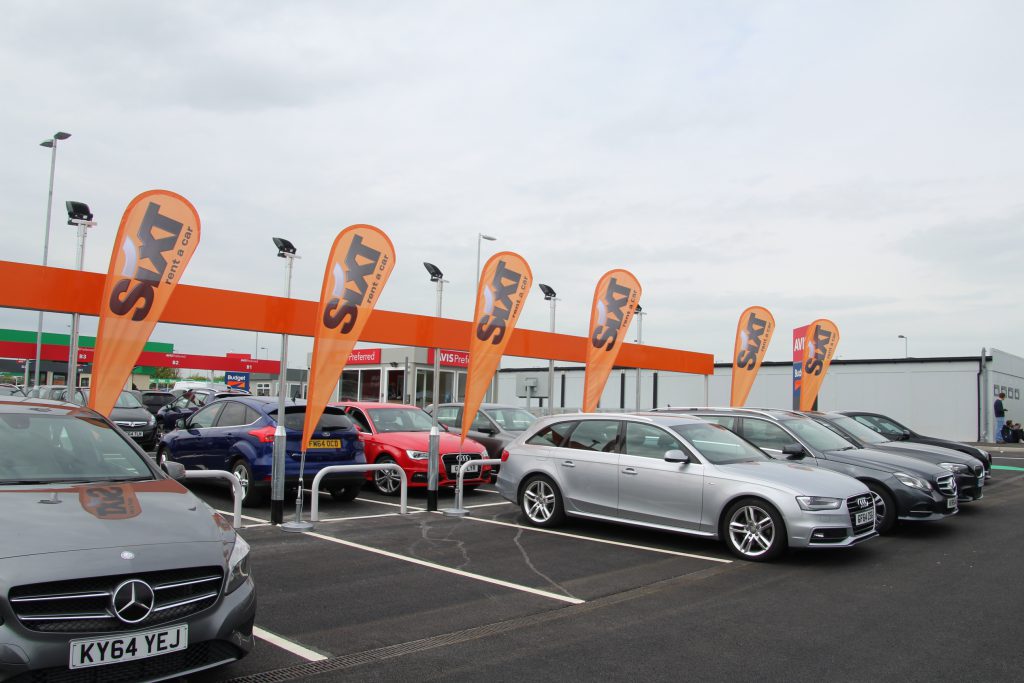 How does a rental car booking work?
In most cases, you can easily book online. On the portal of the car rental company you first give your pickup and return location and the period of your rental. After that comes probably the most exciting part, since you may now choose a rental car. If you have found a car that fits perfectly with your holiday planning, you can usually choose between different payment methods for renting your dream car, and there are often discounts for prepayment. In addition, there are various additional options available at the time of booking which you can choose according to your requirements. At the end of the booking you will then provide your personal information, which is usually limited to name, e-mail address, address, phone number and date of birth. Often you can also enter your flight details, of course only if you want to pick up your vehicle at an airport. The flight data means that the lender will wait for you even with a delay.
Once you have arrived at your destination, you should before you depart with the rental car thoroughly examine for damage or defects which must then be reported immediately. The reason for this is quite simple, because then the damage can be noted in the lease and thus does not fall back on you.
Who can book a rental car?
Basically, of course, anyone who has a valid driver's license. But there are certain limitations. A big limitation can be your age and also the length of the driving license possession plays a role. Many agencies specify that a minimum age when renting a car , which varies from company to company. Here is a brief overview of conditions:
Europcar : minimum age 18 years.
Sixt : Minimum age and license length depends on the vehicle class. Small cars such as a Smart fortwo or Fiat 500 may be rented from 18 years and after only one day driving license ownership, many vehicles but only from 25 years and 3 years driving license ownership.
Avis : Small cars from 18 years, otherwise minimum age 21 years, upper class (like Porsche) from 25 years.
Hertz : Minimum age 25 years. For a fee of 24 € partly from 21 years.
Budget : minimum age 18 years.
Enterprise: Different depending on the branch.
InterRent: Minimum age 18, from 18-22 years, however, a fee must be paid.
How do I pay for the rental car?
To pay for the rental car, there are usually two different options. Either you pay when booking in advance online or when picking up or dropping off the rental car locally.
For many, however, the catch is that they have to pay by credit card. When paying in advance, the fixed costs will be collected directly, but often a credit card for identity verification must be presented here when picking up. If you pay later, the payment must be made according to the rental company either at the pick-up or at the delivery of the car. Often, however, it pays to pay in advance, as many providers here both grant a discount, as well as reserving a specific vehicle for you. But many lenders also demand a deposit, which usually has to be paid when picking up the car. In some cases, the car rental companies also block the deposit on your credit card until you have successfully brought the car back.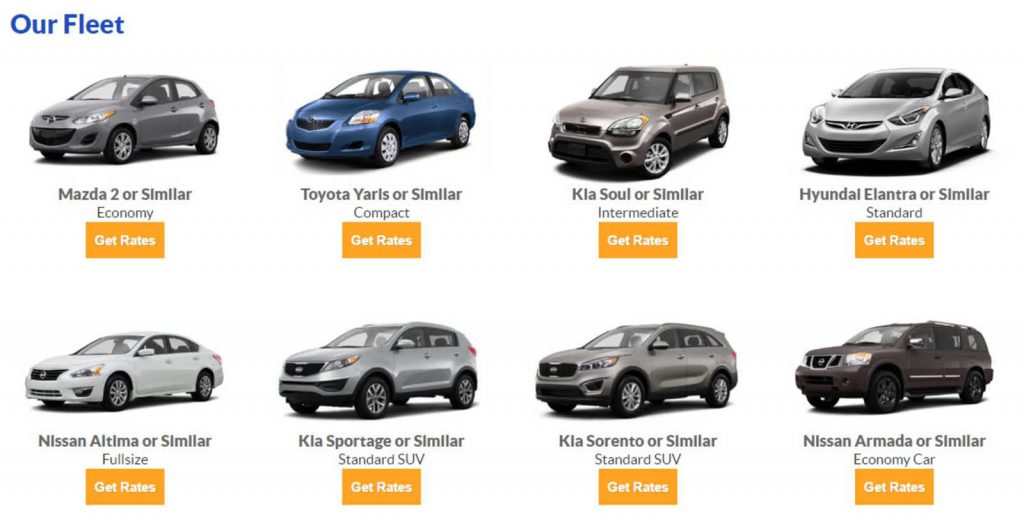 What is included in the price?
The price usually includes taxes, a service and location fee, a kind of basic insurance cover and free kilometers (often unlimited). Not included, however, is the fuel. Normally, you will receive a fully fueled car, but then you have to return it with a full tank. However, this is the fairest method, since you only pay for the fuel that you have actually done yourself. The number of free kilometers also varies from provider to provider. If you cross the specified daily mark (usually 200-500 km / day), you pay a certain amount per additional kilometer traveled. Although this amount is usually only about 20 cents per kilometer, with longer distances, this can add up quickly. It is therefore advisable to look out for providers with unlimited free kilometers (eg Avis), if you are planning longer tours.
Which insurance cover do you have?
A very important point is the insurance coverage of the rental car . To save you from nasty surprises, you should definitely inform yourself before booking in detail about the existing and optional protection! To give you a first overview, I compare here the insurance offers of the various landlords:
Insurance coverage at Europcar : The price includes a basic protection package with collision damage and theft protection (deductible depending on the vehicle about 1000 €). Not included, but additionally available, are occupant crash protection and insurance coverage for broken glass and punctures. If necessary, you can also purchase the medium or premium protection package.
Insurance coverage with Sixt : Included is a liability insurance. Not included in the price and available at extra cost are the comprehensive insurance and theft protection, the personal accident protection, as well as the disc and tire protection.
Insurance cover at Avis : Included is the reduction in liability for both damage and theft, but there is a deductible if something happens. Exclusively available are the extended occupant accident insurance and the Roadside Assistance Plus option, which covers minor breakdowns or towing costs.
Insurance coverage at Hertz : The price includes a limitation of liability and a theft protection, but in each case a deductible remains in case of cases. Additionally available here are the personal protection insurance and with the Premium Emergency Roadside Service a cover for example breakdowns or towing costs. In addition, there is a baggage insurance and also the complete disclaimer with the Super Cover protection.
Insurance coverage at Budget: Included here is also a liability reduction for damages, as well as a theft insurance , but both with deductibles. Additionally available is a passenger accident insurance including protection in case of loss of luggage.
Insurance protection at Enterprise: Included here is a liability insurance, a liability reduction and theft protection – but all with deductibles. For an additional fee is also available here an occupant and property protection insurance.
Insurance cover at InterRent: The price includes theft protection, liability insurance and comprehensive coverage, but all with deductibles. In addition, however, you can also reduce your deductible here, either to only € 100 or with the all-inclusive package to € 0. In addition, InterRent offers you a 24-hour roadside assistance, but only for no-fault breakdowns and accidents.
Car rental breakdown insuranceSave
However, the insurance conditions and in particular the costs depend heavily on the chosen vehicle and also on the landlord. So you really should read the terms and conditions of the landlord of your choice so as not to experience an unpleasant surprise in the event of an accident. Most of the information about the existing and optional insurance coverage is given to you right from the moment of booking, mostly as your own step between selecting a vehicle and entering your data. However, I recommend you, regardless of the provider and vehicle, if possible an option such as Super Coveror to take out a comprehensive insurance. Although you pay an amount of about 15-30 € / day, which of course appear at first glance like annoying additional costs. But if something happens, you'll be glad to have booked this option, because otherwise really high cost of excess may threaten, which can bargain the bargain then sometimes very quickly.
Which additional options can be booked with the rental car?
In addition to the extended insurance options, there are other additional options that you can add during the booking process. Among these additional options is usually the fee for young drivers below the minimum age. In addition, persons who want to act as additional driver in addition to the renter himself must be specified by name. Again, a relatively small fee is due, which usually moves within the range of 6-15 € per day. Here it depends as well on the provider and the selected vehicle.
Other additional options are often the indication of special requirements, such as a diesel vehicle or an automatic transmission. But also more or less useful items for the journey are rented here. First and foremost, these are child seats that cost around € 10 per day. Also, accessories are often offered for trips in the winter months and navigation systems. However, so that the passengers are not bored while driving, there are, for example, at Hertz and Avis mobile Wi-Fi hotspots , which can be surfed while driving in the rental car.
A special service also offers Sixt: Since many vans and thus optimal vehicles for removals are offered, there are also necessary utensils such as sack trucks, packing blankets, boxes or lashing straps as an additional option. In combination with the additionally available student discount and the exclusive relocation tips from Sixt certainly a round thing.
Cheap car rental providers at a glance
This question can not be answered flat-rate. A very important factor is of course the travel period. In the high season, for example, customers at very popular tourist destinations, such as Mallorca, quickly pay several times the price they would pay in the off-season. Also often plays a role, how early or late you book the rental car. First, because of the well-known early bird discount, which also offer some providers for rental cars. On the other hand, due to the limited contingent on certain vehicles, it may of course happen that many vehicles are already fully booked for the period of your stay. Affected of course are always very fast, the cheapest vehicles, so you have to change then, probably or badly on more expensive alternatives. A very good way to compare the prices of the above-mentioned lenders, are the many comparison portals for rental cars.
Comparison portals each have a different range of car rental companies. Therefore, it is worthwhile to compare the prices of all portals, in order to find the cheapest price. Important to note here are of course the conditions and especially reviews especially from smaller providers. These can sometimes differ significantly from those of the "big" providers. If you want to rent a cheap car with one of the well-known lenders, but they do not have good offers in your travel period, then so-called rental car brokers the right thing for you: These companies acquire certain contingents of vehicles from larger landlords such as Sixt or Europcar. You get high discounts and can then offer these vehicles significantly cheaper. But that's not all, the service here is often even more comprehensive than the landlords themselves. Many brokers still pack the mentioned extended insurance or other additional services into a package, which therefore comes along much cheaper . Examples include AutoEurope, CarDelMar or the well-known tour operator DERTOUR .
Always read exactly the fine print!
Even with sensible insurance offers, which exclude you from the liability in case of damage, you should really consider knocking, since you already here can protect a small amount from very high deductibles. However, if you follow these tips and you thoroughly deal with the various offers, nothing stands in the way of exciting tours on your own – Have a good trip!